DIARY PROJECT PRESS
ARTICLE: The diary of a young girl
by KARA HADGE | Boston Phoenix
Twenty-two years ago, Jessica Deane Rosner was headed home from a job as an artist's model in Rhode Island and discovered her car had been towed. When she called a friend for a ride, she accidentally left her diary on top of the pay phone. Rosner got her car back the next morning, but wouldn't see the diary again for 14 years.
"It felt like I'd lost a physical part of myself," she remembers.
Then, on Christmas Eve 2000, a man unexpectedly called Rosner from Boston and said he had the diary...
>> Read the inside scoop on how this whole project started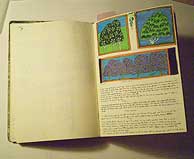 THE DIARY PROJECT:

THE STORY BEHIND THE WORK
I've kept written diaries since 1975, starting in high school. They're my records of thoughts, factoids, and personal dramas, and doodles.
One of these diaries was lost in 1986. I was heartbroken about it and put up "lost diary" notices all over the RISD and Brown campuses in Providence, as you'd do for a beloved pet. As weeks and then months passed I assumed I'd never see it again, but through an unknown series of events this journal was returned to me by a stranger fourteen years later, on Christmas eve, 2000.
I came home from an annual party on Christmas eve and there was a message on the machine, saying, "if this is Jessica Deane Rosner, I have something you want." I said to my husband, "there is only one thing that I know of that has been lost that I would want, and that would be my diary."
Then we played phone tag for the next few days. Finally I reached the man and asked him what the item was, he briefly told me, took my address, and then mailed it to me, from Boston. All the while I worried that it would get lost in the mail.
I know the diary was passed from person to person, going all the way from Providence, RI to Toronto, Canada through a network of art students. I know this because tucked in the front were bits of paper with names and addresses that were not mine.
When the lost diary was found I wanted to use it as a catalyst for drawings that would allow me to use all of the motifs I've explored for the past two and a half decades.
With that idea I began the Diary Project. I'm using a copy of each page of the diary as the foundation for new drawings, which portray a visual stream of consciousness. It's been a journey backwards and it's often painful to read my words again because they sound so immature but it's encouraging to have a chance to recreate my past into a more mature work and I hope, person.
It was exhibited as a work in progress at the David Winton Bell Gallery of Brown University and the complete series was exhibited at the DeCordova Museum in Lincoln, MA in the Drawn to Detail show. There are 72 pages in the series.